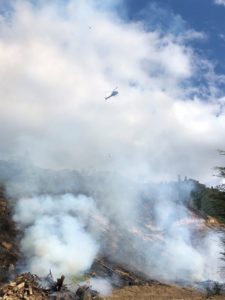 With the ability to carry up to 900 litres of water with our AS350 B2 helicopters, we can provide a safe and reliable aerial firefighting service.
We are a Fire & Emergency New Zealand (FENZ) approved operator, which means we have been audited by FENZ, our staff have completed NZQA unit standard training and our aircraft and firefighting equipment comply with the FENZ standard.
Our aircraft have hi-visibility blades, FM and VHF radios with press-to-talk capabilities from the front passenger seat and real-time tracking/flight following software.
Our fire buckets are collapsible allowing them to fit inside the aircraft for a faster response time. Our buckets have foam injection units installed.
We operate a robust firefighting procedure that ensures pilot and crew fatigue in the hostile fire environment is our top priority.
PHL Aerial Firefighting in Action
Check out the video of our team in action firefighting
Need to fight fire from the air?
Want to know more about firefighting with PHL?
Great, give us a buzz today!